I am currently obssessed with making bags. Usually, I crochet them. Faster, but uses more yarn. I wanted to try knitting bags.
This isn't exactly a pattern, so it's not going to be written like one, but it's adapted from a knit market bag I found online.
And it's long, so grab a cup of coffee.
It's based on a simple lace stitch of K1, 2 YO, K 2 TOG, repeat, done on big needles. My adaptation is also worked from the top down.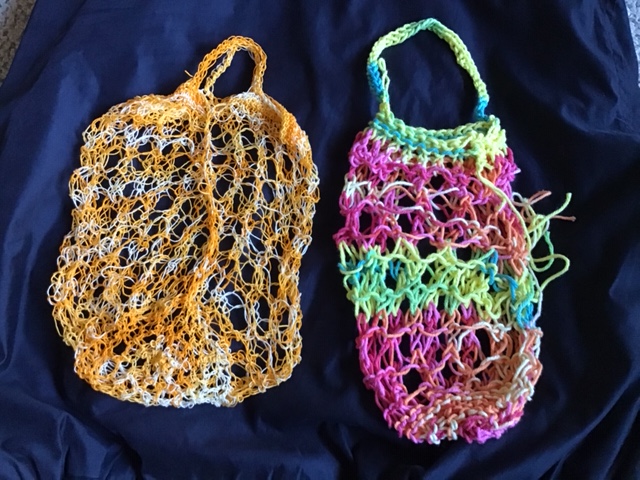 (The pattern was originally written to be worked in the round on circular needles, but wrangling circs drove me bats, so I changed the pattern for working in rows.)
Above are two of the bags I did. The yellow/orange bag is worked in cotton thread (#10) on #10 1/2 needles, and the pink/green in DK weight cotton on #13 needles. I didn't even work in the ends on the pink/green yet...
Cast on an uneven number of stitches. I did 49 for these mini bags. Too small for the DK weight bag.
Then I knit a couple, three of rows of garter stitch before starting the pattern, to make a neat top of the bag. I found it best to work these bags from the top down, then, working again in garter stitch, decrease and cinch those stitches to form the bag bottom, and leave a long yarn tail to sew up the side of the bag.
Pattern:
Row 1: K 1, YO 2x, K 2 tog, repeat.
Row 2: decide if you want to K or P. Since I worked this in rows rather than rounds, I purled for a smoother look. But K (or P) 1, drop the first YO, and just K (or P) the second YO. Repeat the drop 1st YO, K through second, around.
When the bag is long enough for you, switch to garter stitch rows. Work one or two rows without decreasing, then dec as needed until you have 6 st. Bind off and cut yarn, leaving a long tail. Weave the tail through the bound-off stitches and cinch them. Use the tail to sew up the side seams.
Handles are worked separately in crochet, then sewn or crocheted on. I used a SC foundation chain for mine. I suppose you could knit the handles, too.
I'm now working a DK bag in only YO, K 2 tog. Just to see how it comes out. 😜